Handshake between Madara and Hashirama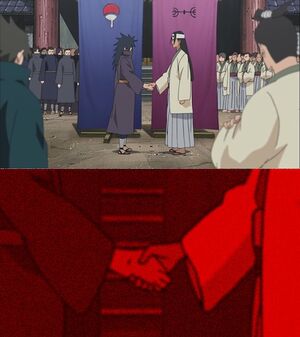 About
The Japanese manga series known as Naruto deserves its own place in the history of internet memetics. Long before the Naruto universe, starring a young ninja, was made into an anime series, readers of the original manga were scanning pages and making them into memes.
Even though the series is driven by action-packed plots and martial arts, the world of Naruto features plenty of philosophical situations derived from Shinto myths and principles of Confucianism; the "Handshake between Madara and Hashirama" being a good example.
Origin
This exploitable two-panel labeling comes from chapter 621 of the Naruto series, which was originally published in 2013, and it features two ninjas who are constantly feuding despite having met during a friendly lakeside stone-skipping session in their younger years.
In June 2020, the first version of the meme was posted on a Reddit forum, where it received numerous positive votes in just a few days.
Meaning
On the top panel, meme-makers are expected to assign a label to each character as they are shaking hands. On the bottom panel, which is a closeup of the handshake, a single label is the punchline.
In essence, this is a Venn diagram that can be used to explain the result of two joining elements; for example, dramatically thinking about either asking someone out on a date or committing suicide upon rejection, yet doing nothing in the end for lack of courage.
Examples
Popularity
See also