Hitler vs Stalin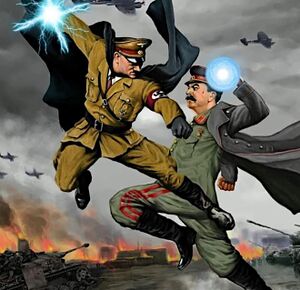 About
The "Hitler vs Stalin" meme is a depiction of Adolf Hitler and Joseph Stalin engaging in a physical confrontation. The artist, DevianArt, didn't intend for their piece of work to evolve into a social media sensation. Currently, the image is used by Redditors, tweeters, and Instagram users alike.
Origin
DevianArt posted the painting to Twitter in December of 2016. It took three years for the photo to blossom into a meme. Xion_Sempai is credited with bringing the first comical rendition of the picture to life.
The edited version includes force fields to make it appear as though Hitler and Stalin were superheroes during their reigns of terror. The post performed admirably, gaining over 30 retweets and 70 likes. Though the meme began on Twitter, it's spent the most time on Reddit's platform.
Meaning
The image of Hitler and Stalin in a head-to-head battle is used to express two things that mix like oil and water. For instance, Instagram users and Reddit users. Another prime example includes two of the smartest kids in class disagreeing on an answer.
Examples
Popularity
See also