I'll Fuckin Do It Again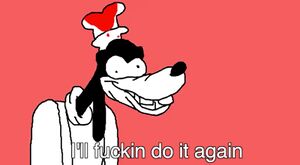 About
This meme originates from an animated comedy sketched and developed by YouTube user Filthy Frank. The crude comment "I'll Fuckin Do It Again" was said by the classic Disney character, Goofy, in this funny parody.
The still image of this scene has circulated social media as a guilt-free response to judgment toward actions considered distasteful.
Origin
At the start of 2017, YouTuber TooDamnFilthy posted an audible parody called 'Goofy's Trial'. In this comical sketch, Disney's infamous Goofy is accused of shooting a large crowd. Goofy unremorsefully confesses and tells his attorney, "I'll Fuckin Do It Again". This post received nearly 3 million views in under 3 years. Shortly after, YouTuber Shigloo brought the audio sketch to life through animation. The post received close to 7 million views within the same time span.
In mid-August of 2019, Reddit user cartertwocool used a still image of the video to humorously convey the role Germany played in World War I and II. The post generated over 6,000 upvote points and several comments within a couple of weeks. The variations that followed also earned over 90% upvotes within a short period of time.
Meaning
The "I'll Fuckin Do It Again" meme could be utilized as a witty reply to criticism or a great template to voice opinions in a light-hearted manner.
Examples
Popularity
See also