I'll Never Forgive the Japanese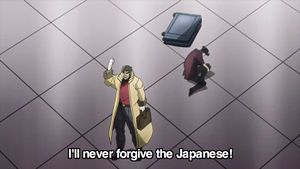 About
"I'll Never Forgive the Japanese" is the name of a popular meme derived from a popular anime series called JoJo's Bizarre Adventure: Battle Tendency.
The iconic quote was made by Joseph Joestar, one of the more recognizable characters on the show. This memorable line was quoted during a run-in Japanese tourist at the airport.
Fans have since turned this quote into a popular macro-based image that has been circulating the internet.
Origin
The Ascendant One was the 26th episode of JoJo's Bizarre Adventures that aired in Japan on the 5th of April in 2013.
There was a scene in this episode when a Japanese tourist bumps into the anime series' primary protagonist Joseph Joestar. After learning about the individual's nationality, Joestar flails his leg and says that he won't ever forgive the Japanese.
Although the quote was seemingly benign and not intended to stand out from the rest of the episode, fans have turned the saying into an internet meme.
Meaning
Although the episode featuring the iconic quote premiered in 2013, the first screenshot of this meme didn't make its way online until 2015.
The screenshot was posted in an image gallery dedicated to Joseph Joestar. The image was later reposted to an anime feed on Reddit where it gained a few hundred upvotes.
The quote didn't get its final form until 2018 when an Imgur user posted an edit that went viral. The image was later posted on Reddit where it reached thousands of votes.
Examples
Popularity
See also