I've Never Met This Man In My Life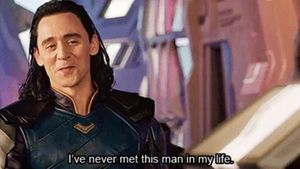 About
The ever-hilarious "I've Never Met This Man In My Life" meme comes from Marvel film, "Thor: Ragnarok." Loki, the film's main protagonist, is credited with sparking this legendary meme.
Loki's deliverance of the famous one-liner, I've never met this man in my life, has since evolved into a viral sensation, with meme-goers taking a screen grab of the scene and turning it into a relatable GIF.
Origin
Loki's line made its mark on the meme community in 2017. A YouTube channel by the name First Trailer helped highlight the now famous scene with an extended clip that was uploaded on October 21, 2017. The four-minute video begins with Thor being tormented by The Grandmaster.
Thor's brother, Loki, bears witness to the torturing. When prompted to reveal his connection to Thor, Loki responds with "I've never met this man in my life." The incredulous look on Thor's face is priceless. Loki's ignorance results in prolonged agony for Thor.
Meaning
The I've Never Met This Man In My Life GIF has now become synonymous with mind-numbing stupidity. When someone makes a frustratingly ignorant remark, the mocking image is used to emphasize the foolishness of the commenter. Loki has evolved into a martyr for pea-brained simpletons.
Examples
Popularity