I Am Never Gonna Financially Recover From This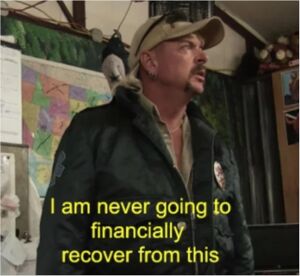 About
The "I Am Never Gonna Financially Recover From This" meme uses the screencap from the popular Netflix show Tiger King to express a great financial loss, whether real or imagined.
Origin
Tiger King follows the life of Joe Exotic, an extremely eccentric zookeeper. The show has been hugely popular on Netflix, likely due both to its subject matter, seriously, it is a wild ride, and the fact that everyone is stuck at home.
The basis of the meme is a memorable scene in which an employee of Joe Exotic's arm is ripped off, prompting him to comment "I am never gonna financially recover from this."
The meme first showed up on Twitter the day the show dropped, as a reaction image to the caption "Me after I spend six dollars." Since then, it has spread all over the internet as a reaction image to moments of financial distress.
Meaning
"I Am Never Gonna Financially Recover From This" is an opportunity to express frustrations about financial worries.
The humor in it is that when Joe Exotic should have been concerned about the well being of his employee, he was instead worried about the financial fallout. This gives the internet a perfect way to express money fears that maybe shouldn't be overly complained about.
Examples
Popularity
See also