I Am Once Again Asking for Your Financial Support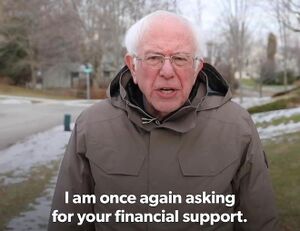 About
"I Am Once Again Asking for Your Financial Support" was a quote said by Vermont Senator and 2020 Presidential Candidate Bernie Sanders in a fundraising video about his presidential campaign in December 2019.
The meme is an image macro from Bernie Sanders' fundraising video. You can find the original video here. It became popular mostly on Facebook, Instagram, and Reddit.
Origin
Senator Bernie Sanders uploaded the video to his social media accounts on December 30, 2019. The first known post of this meme was by Reddit user 3RunRickyRun4 on the subreddit /r/libertarianmeme. The post got 570 upvotes in nine days. The second instance was on the Facebook Group Being Libertarian, where it received 780 shares and 3,800 reactions in nine days.
There were also postings on Instagram. A comedian known as shitheadsteve posted a version on January 16, and it received over 100,000 likes. Since then, many different versions started appearing on Facebook, Instagram, and Reddit.
Meaning
The joke is about situations when someone asks for monetary donations in unsympathetic circumstances. It doesn't matter if they are loved ones, co-workers, or strangers. It can also come from the first, second, or third-person perspective. Sometimes violence or coercion may be involved.
Some examples would be a mugging, people mooching off their parents, someone in a lot of debt, or anybody who spends money badly.
Examples
Popularity
See also