I Am So Proud of This Community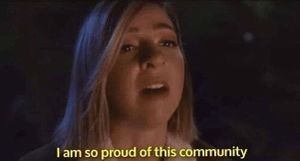 About
The "I Am So Proud of This Community" meme is a reaction image derived from a "YouTube Rewind 2018" screenshot. YouTuber Gabbie Hanna is the woman in the image and she says the line that the meme shares its name with.
The caption of the line has apparently been added by an outside source, as it does not match the text employed by YouTube's very own captioning system.
Origin
From 4:00 to 4:05 of the "YouTube Rewind 2018" video, Gabbie Hanna praises the YouTube community for its willingness to be open, honest, and discuss difficult topics (primarily those related to mental health). The line "I am so proud of this community" is spoken at the end of her brief segment in the video.
Meaning
"I Am So Proud of This Community" is widely used in an ironic, or backhanded way, typically juxtaposed with an image of YouTubers doing something silly, gross, or not at all worthy of pride. A major impetus for misappropriating this part of the "Rewind" is to not-so-subtly lampoon YouTube, which has been criticized for ignoring its primary user-base in order to promote celebrities or the most commercially viable YouTubers.
The fact that "YouTube Rewind 2018" is now the site's the most disliked video (beating out Justin Bieber's music video for "Baby," the previous reigning champ) is a clear indication of this burgeoning animosity.
Examples
Popularity
See also