I Like Those Odds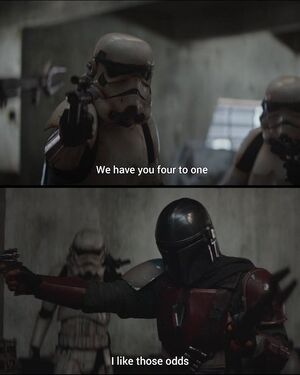 About
The Disney+ video streaming service, which made a splash in November 2019 with a debut that included Star Wars original series "The Mandalorian," is destined to be an abundant source of memes.
"The Mandalorian," a sci-fi western that has echoes of classic samurai films directed by Akira Kurosawa, spawned the "Baby Yoda" image macro just weeks after it started; however, this gritty series had already produced a two-panel macro as early as April 2019.
Origin
The first glimpse of "The Mandalorian" was gifted to fans during the Star Wars Celebration event in Chicago, which took place in April 2019. An attendee took a photo of the cinema screen playing a teaser clip of the series, and the scene in question featured the masked galactic bounty hunter in a Mexican standoff against four imperial storm troopers.
Despite being outnumbered 4:1, the bounty hunter liked the odds and clearly stated his feelings on the matter. It only took three days for "I Like Those Odds" to become a two-panel image macro on Reddit, but the scene itself did not make it to YouTube until November 12, thus rekindling interest and popularity.
Meaning
This meme is pure bravado. "The Mandalorian" is not a gambler, but he is not about to be intimidated by a small squad of storm troopers that are likely terrible shooters; then again, this meme is more effective when sarcasm is applied.
Let's say you are out of work and you have four rent, car payment, broadband, and Disney+ bills coming due; by saying "I Like Those Odds," you are laughing at the Dark Side and hoping the Force will bail you out.
Examples
Popularity
See also