I Worry About You Sometimes Candace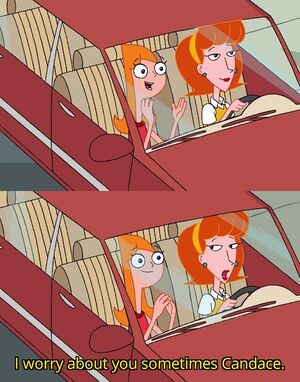 About
"I Worry About You Sometimes Candace" consists of two panel scenes of Disney characters Phineas and Ferb in a car. Phineas expresses her thoughts or opinion from the passenger seat in the first scene and Ferb expresses her concern in the second scene while driving.
The format was adopted from the memes that circulated Reddit during November of 2019, which feature Candace thinking in the shower.
Origin
The quote, "I Worry About You Sometimes Candace", was pulled from an episode of Phineas and Ferb that aired on August 17, 2007 called 'Rollercoaster'.
Reddit user, SuperCarrot990, posted the two panel image of Phineas and Ferb in a car on November 21, 2019. The thought shared by Candace was "If I kill someone with an icicle, they would never find the murder weapon". This submission earned over 20,000 upvote points within the Reddit community.
That same day a fellow Redditor submitted a similar post where Candace shares that "if you are what you eat, then only cannibals are humans". This received close to 35,000 upvote points in less than a week. It also started picking up momentum in r/dankmemes and r/memes during the last week of November.
Meaning
The meme is being used to communicate insane thoughts that go unspoken. Ferb's reaction reflects what most people do when someone shares a thought outside of their comfort zone.
Examples
Popularity
See also