If It Ain't the Invisible Cunt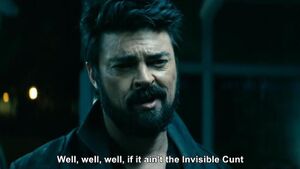 About
Streaming video services such as Netflix have become rich sources of ideas for meme-makers, particularly when they are inspired by exclusive series that become popular.
The digital nature of streaming content means that it is usually played on personal computing devices, thereby making the clipping of scenes and capturing of screen caps easy, thus enabling meme-making as a 21st century activity.
What happens when the streaming sources are not so popular? Such is the case of "If It Ain't the Invisible Cunt," a meme based on an Amazon Prime original series that premiered in 2019.
Origin
"The Boys" is the streaming video adaptation of a comic book series published from 2006 to 2012 under the Wildstorm and Dynamite Entertainment imprints. This is a very dark comic that unfolds against the fictional backdrop of major cities such as New York and London, where superheroes have become corrupted to the point that they need to be watched and dealt with by the United States Central Intelligence Agency.
"The Boys" are a group of vigilante assassins who keep superheroes in line by means of gruesome violence. The leader of this group is Billy Butcher, a brash and quite unpleasant British veteran of the Falklands War, played by Karl Urban. In the very first episode of the series, Butcher fights against Translucent, a superhero with invisibility superpowers, hence the "if it ain't the invisible cunt" line.
It only took a couple of weeks for the scene to be made into a single-panel image macro meme, which appeared on a Facebook group dedicated to discussing the series. A week later, the template appeared on Reddit, where it was used to make fun of situations when video game players are confronted with invisible opponents.
Meaning
Aside from venting video game frustrations, this meme can be used to describe psychological situations when people hear voices or have thoughts that they know do not belong in the real world.
Alternately, it can also be used to depict social situations when people make it a point of ignoring others.
Examples
Popularity
See also