Ight Imma Head Out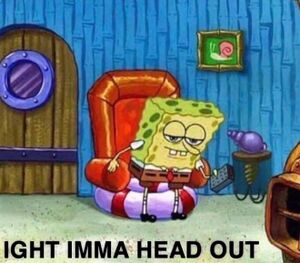 About
The universally popular animated character SpongeBob SquarePants is featured in a series of macro images accompanied with the caption "Ight Imma Head Out".
The image used was taken from a scene in which he is rising from his seat. This meme inspired many variations with similar captions.
Origin
Twitter user, @BBWslayer666, tweeted his opinion regarding the odd behavior of some people after they consume cannabis on July 27, 2018. He expressed that in his experience most of his acquaintances sit stuck in an eerie silence for a while after smoking large quantities before declaring "Alright bro I'm boutta head out".
This tweet was retweeted over 26,000 times during the span of 6 months. On the same day, another Tweeter, @amanthagawd, replied by using a SpongeBob Squarepants scene enacted by real people in conjunction with the caption "Alright bro I'm boutta head out". This tweet inspired 75 retweets and close to 700 likes
At the end of July 2019, Twitter user @_Jasmineimani__ tweeted one of the original macro images of SpongeBob SquarePants with the caption "Ight Imma Head Out". On August 21, 2019 Reddit user CalebCarsey submitted the same image with the caption "Whenever El Chapo gets bored in prison". Within one week the post received over 11,000 upvote points and 30 comments from the Reddit community.
Meaning
This meme is used as a reply in heated or controversial discussions as a way of announcing the exit of one of the parties. It may symbolize intolerance, boredom, or discomfort with a particular topic.
Examples
Popularity
See also