Is It Possible to Learn This Power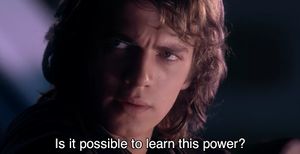 About
Popular science fiction films are often a source of inspiration for meme makers; to this effect, the Star Wars saga has fostered dozens, if not hundreds, of funny GIFs and image macros.
Depending on the context of online discourse, memorable scenes from Star Wars films can be epic, overly dramatic, campy, strange, or simply out of place, and this is what makes them ideal for conversion into memes.
"Is It Possible to Learn This Power?" is a GIF from Episode III of the Star Wars franchise, and it often used to show admiration in a truthful or sarcastic manner.
Origin
Although "Revenge of the Sith" dates back to 2005, the clip of actor Hayden Christensen playing the future Darth Vader and dramatically voicing the line did not appear online until a few years later.
In 2016, GIFs of the scene were circulated in celebrity gossip forums where Christensen's visage is often discussed. It did not take long for the GIF to be made into image panel memes; the first made fun of what seems to be an airplane toilet sign forbidding men to urinate over their heads, which everyone knows is anatomically impossible.
Meaning
For the most part, this meme is used to make a sarcastic point.
For example, a 2013 news story about UC Santa Cruz students who rolled two pounds of cannabis into a single joint, which they claimed was for personal consumption and not for sharing with others, was made memorable through a two-panel "Is It Possible to Learn This Power?" image macro because it is unlikely that a single human would be able to smoke such a prodigious amount of marijuana at once.
Examples
Popularity
See also