Jim Halpert Pointing to Whiteboard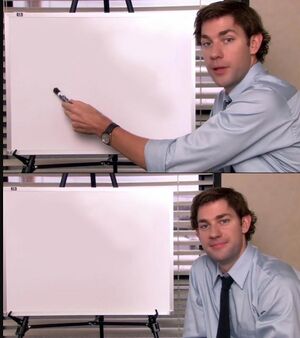 About
Also known as "Jim Halpert Explains", the two-panel image series called "Jim Halpert Pointing to Whiteboard" features the character Jim Halpert, portrayed by actor John Krasinski, from the American version of the comedy TV show called The Office.
Origin
In an episode of The Office titled "Baby Shower", which aired on November 10, 2008, the character Jim Halpert makes a chart showing how his boss, Michael Scott, played by Steve Carrell, might be related to the baby of another character named Janet Levinson. Jim states, "Jan is about to have a baby with a sperm donor, and Michael is preparing for the birth of a watermelon with Dwight. Now, this baby will be related to Michael through delusion."
On March 16, 2016, a two-panel screenshot of the scene was posted on the Tumblr account called the-office-daily, and in less than 4 years, it received more than 3,700 comments.
Meaning
A meme of this image was used by BuzzFeed on April 17, 2016 asking, "How compatible with Jim Halpert are you?", and on August 27, 2019, a user named fluffypancakes from the Imgur website, also made a meme of the image with the words "Government is necessary, because people left unchecked will do evil. The government is composed of people left unchecked." This post received nearly 120,000 views, and over 4,000 comments in less than a year.
In the same year, a Reddit user posted another edited version of it with the text, "In December, we should post our favorite memes from the 2010s in celebration of them. Please."
Examples
Popularity
See also