Joker and Peter Parker Dancing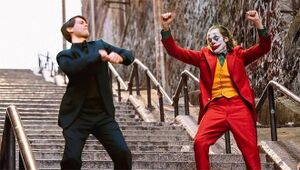 About
"Joker and Peter Parker Dancing" meme derives from the hit film, "Joker." The image shows the Joker dancing on a staircase with Peter Parker, the protagonist in Spider-Man, photoshopped next to him. Peter Parker is also seen busting a move.
Though Spider-Man didn't appear in the actual film, the picture alludes to the fact that they would've made fantastic dancing partners in the movie.
Origin
On July 23, a slew of promotional photos for the "Joker" hit the press. One of the pictures portrayed the dancing scene. On August 28, TheTopComics, a seasoned Twitter user, edited the photo to include Peter Parker. In seven short days, the tweet gained just shy of 6,000 likes.
A similar edit was posted three days later, amassing significantly fewer likes but still amusing audiences. From there, the meme spread like wildfire. The most popular edit of the photo goes to belfagoor, a Redditor who photoshopped even more spunky dancers into the picture.
Meaning
Simply put, the meme is used to represent a cheerful response to a favorable situation. For instance, crabs dancing on a deserted island or dogs when they see that their food bowl is full.
Examples
Popularity
See also