The Jig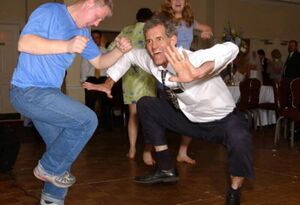 About
"The Jig" is a lighthearted meme depicting a joyous man dancing. The original photo includes a man in formal wear busting a move on the dance floor by himself. The picture evolved into a meme when internet-goers photoshopped an equally as enthusiastic dancer into the photo. After all, the more the merrier.
Origin
The meme, though over a decade old, resurrected in 2019. After circling the digital waves for some time back in 2005, the photo reappeared just this year. A LiveJournal user is credited with bringing the initial image to the public 14 years ago. On March 18, 2019, the meme made its second premiere on none other than Reddit's platform. When the photo was uploaded to the /r/dankmemes subreddit, it gained upwards of 70,000 points.
Meaning
The meme is now used as a reaction image. For instance, the two men's passionate dancing has been assimilated to moths reacting to the invention of the light bulb, snakes responding to an Indian snake charmer, and bacteria pouncing on food when it hits the floor.
Examples
Popularity
See also