Link Protecting Zelda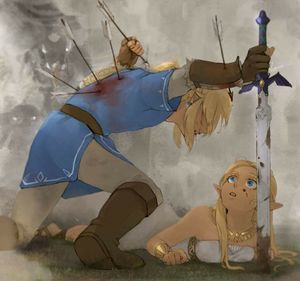 About
Unlike most memes, the "Link Protecting Zelda" meme derives from fan art rather than a movie, show, or video. However, it was inspired by the video game "The Legend of Zelda."
The artist, who was paying homage to Link and Zelda's ill-defined yet passionate relationship, created a piece depicting Link taking arrows to the back in hopes of saving Princess Zelda. It's a true testament to how far Link will go to keep his beloved Zelda out of harm's way.
Origin
The aforementioned artist posted this artwork to Twitter on May 16, 2018. Their Twitter handle is @_nomeri_. The piece has since garnered 17,000 retweets and 60,000 likes. Before too long, Redditors got their hands on it.
Meaning
The Link Protecting Zelda meme is used to express someone or something that's taking a blow for someone else. For instance, tarnishing your sanity for the sake of maintaining good grades.
Examples
Popularity