Lois Falling Down Stairs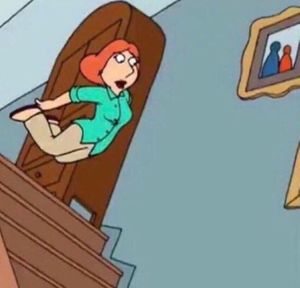 About
The "Lois Falling Down Stairs" meme derives from one of America's most beloved and twisted sitcoms, "Family Guy."
Lois Griffin, the mother of the household, is seen mindlessly walking down the stairs when Stewie, their comically precocious one-year-old, hatches a plan to harm Lois.
Stewie hops on his bike and eerily follows behind Lois. While at the top of the staircase, Stewie nips at her heels, sending Lois flying down the flight of stairs.
Origin
The scene appeared in "Family Guy" season 2, episode 6. The episode, entitled "Death Is A Bitch," offers levity on an otherwise grim topic.
The show aired on March 21, 2000, but the meme didn't take the internet by storm until February 12, 2019, when Twitter-goer stereoberrys posted a still frame of Lois suspended in the air.
Meaning
The Lois Falling Down Stairs image has found its way into many hilarious meme formats, with the "Nobody:" template being the most popular.
The clip is most prominently used to describe a dramatic response to something.
For instance, heading down the stairs when mom says the pizza rolls are ready or seeing a frat guy jump on a folding table after chugging two beers.
Examples
Popularity
See also