You Guys Always Act Like You're Better Than Me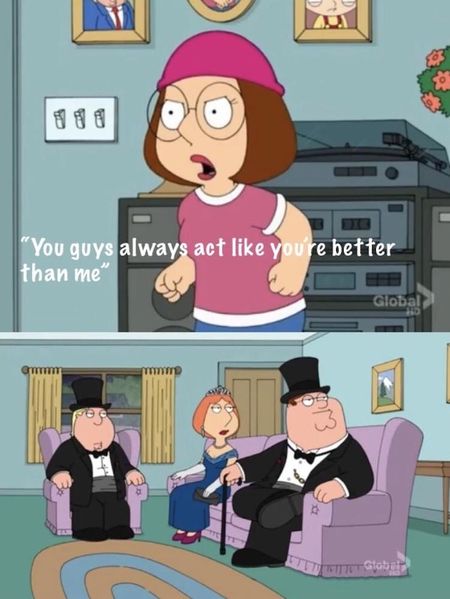 About
"You Guys Always Act Like You're Better Than Me" is a Family Guy meme made popular by Reddit users. This viral image depicts the often bullied Meg Griffin standing up for herself by exclaiming "You guys all think you're so much better than me!" in the S10 E02 episode 'Seahorse Seashell Party.' The scene cuts to a clip of her family dressed as aristocrats, thus sealing her claim.
In October 2018, the internet began photoshopping the still with the most common references to video games and anime. To this day, the photo circulates Twitter and Facebook with different references chosen by the creators.
Origin
This meme originally began with a different screen grab as a comparison to the animes 'Goblin Slayer' and 'Overlord' in the subreddit r/animememes. The following day, the original poster KingWildfang created the now viral image with a template for fellow anime fans.
The rest of Reddit seemed to catch on to the trend with posts in r/MemeEconomy and r/dankmemes, reaching thousands of upvotes within weeks. In some, image creators combined memes, such as the Expanding Brain with the Meg Griffin meme.
Meaning
Even misquoted from the source, this viral image mocks fan bases that sometimes act superior to others. Many Family Guy fans are familiar with the unfair treatment of daughter Meg as others can relate to having their interests belittled by other Internet users.
In a way, "You Guys Always Act Like You're Better Than Me" can be a message to fandoms to stay humble.
Examples
Popularity
See also