Metro Man Sees Megamind and Roxie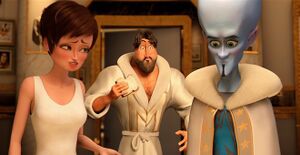 About
The "Metro Man Sees Megamind and Roxie" meme is taken from a scene of the animated movie released in 2010.
In this scene Metro Man finds Megamind and Roxanne Ritchi inside his confidential quarters. Metro Man was astounded to see Megamind since he was supposed to be dead.
The still image of Metro Man appearing shocked and shook is what is being used to create the circulating memes.
Origin
During the fall of 2010 the animated film Megamind premiered in the United States.
The meme template originated from the scene where Metro Man is caught by surprise by Roxanne and Megamind who was presumed dead. He finds them both in his hidden lair.
On July 15th, 2019, a Reddit user, LeakedMonster01, posted a meme using this scene as a template. Within a few days it inspired others to create similar memes based on the still image taken from the movie. These memes were posted on several subreddits and gained a huge following.
Meaning
The Metro Man Sees Megamind and Roxie meme is being used to convey utter disbelief or shock on any given topic.
Both serious and funny messages are being conveyed throughout social media and online platforms using this meme template.
Examples
Popularity
See also