Nicolas Cage Looking At Pedro Pascal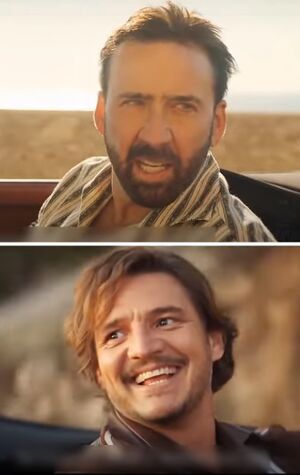 About
"Nicolas Cage Looking At Pedro Pascal" is a video and object-labeling meme template that uses a scene from The Unbearable Weight of Massive Talent in which Nicolas Cage's character looks suspiciously at Pedro Pascal's character as they drive in a car while Pascal's character beams at him. The song "Make Your Own Music" by Mama Cass is usually played in the background while the scene is happening.
Origin
In one of the scenes from "The Unbearable Weight of Massive Talent," Pedro Pascal's character gives LSD to Nicolas Cage, who then consumes it. The scene then cuts to Cage, who is sitting in a car looking bewildered and suspicious while Pascal appears to be delighted.
Around the middle of February 2023, the image first appeared online as a meme. The earliest known use was posted on February 18 by TikToker @gh0uliasux, and it received more than 903,000 likes in just two weeks.
Meaning
This meme demonstrates how casually the character in the second panel responds to the character in the first panel's extremely serious request or message. The meme is frequently employed in a humorous manner to draw attention to instances in which people fail to take important issues seriously. It is widely circulated among users and has popularized on social media platforms.
Examples
Popularity
See also