Now This Is an Avengers Level Threat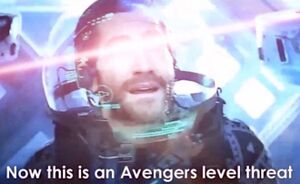 About
Some television series and film franchises tend to generate countless memes for various reasons.
In the case of the Avengers, the Marvel Studios film franchise that as of mid-2019 had already spawned 22 movies all relating to the same fictional superhero universe, the memes never seem to stop, and this has a lot to do with the way these cinematic stories are presented.
In order to pay homage to comic books as their original source, quite a few Avengers scenes are overly dramatic, and this in turn results in excellent opportunities for making memes.
"Now This is An Avengers Level Threat" is a meme that is taken from a scene in the 2019 film "Spider-Man: Far From Home."
Origin
Mysterio, a disillusioned Hollywood actor who happens to be an excellent special effects coordinator, is the main nemesis of Spider-Man in "Far from Home," and he is played by Jake Gyllenhaal.
This villain's life purpose is to make Spider-Man's life impossible, and he is quite good at it through most of the film; he often taunts the young superhero for his allegiance to the Avengers, hence his sarcastic line "now this is an Avengers-level threat!" when coming face to face with Spider-Man.
"Far from Home" was released in early July 2019, and this particular meme, a single-panel image macro, made its first Reddit appearance a few weeks after.
Meaning
This is a sarcastic meme that can be used to make fun of exaggerated reactions because Mysterio is an over-the-top character.
Police officers who believe in the farce of racial profiling, for example, may overreact when they see a young African-American man walking down the street and wearing a hooded sweatshirt.
Examples
Popularity
See also