Spider-Man Explaining to Zendaya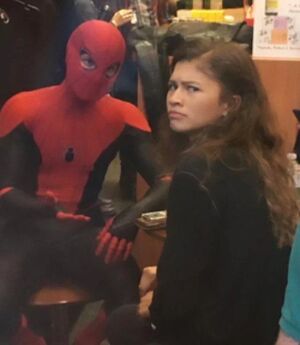 About
"Spider-Man Explaining to Zendaya" is a viral, heroic meme poking fun at confusion and friendship.
The meme format is that of an object-labeling image macro series. In the meme, we see actors Tom Holland as Spider-Man and Zendaya as Michelle backstage on the set of Spider-Man: Homecoming.
Origin
The original candid photograph that the meme hails from was posted to Spider-Man: Homecoming director Jon Watt's Instagram story in July 2019. The story was deleted soon after.
However, screenshots of the behind-the-scenes image quickly spread to Tumblr and Reddit. Tumblr-user peternedmj posted the first version of the meme to his blog on July 8, 2019.
Since then, the meme template became available on r/dankmemes, launching the meme into a streak of viral internet sharing.
Meaning
Spider-Man Explaining to Zendaya is a new take on an old format: confusion memes. Tom Holland appears to be oversharing or overexplaining to his incredulous castmate.
The meme uses Zendaya's candid annoyed stare to make a joke out of moments we all share. Its subject matter is similar to the ever-popular It's Always Sunny in Philidelphia conspiracy meme.
Examples
Popularity
See also