Officer Earl Running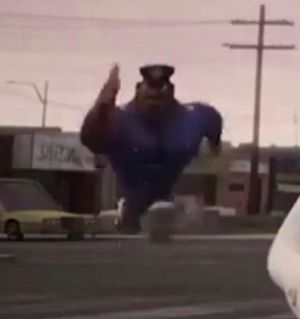 About
In the Spring of 2019 a meme titled "Officer Earl Running" began circulating. A screenshot captured Earl Devereaux from the 2009 animation 'Cloudy With a Chance of Meatballs'.
The blurry image depicted Earl earnestly charging toward the screen. It is being used to convey someone being chased or doing the chasing.
Origin
The character Earl Devereaux was a police officer in the computer animated sci-fi movie called 'Cloudy With a Chance of Meatballs'. The movie premiered in the US on September 18th, 2009. The meme image was pulled from the scene in which Officer Devereaux is fervently trying to arrest Flint Lockwood who is the lead character.
At the start of 2019 a member of the iFunny community uploaded an image of the officer running in pursuit. Within a month the image became popular and liked by over 2,000 members. In April 2019 subreddit community members posted the image with various captions drawing a lot of attention. One of them received over 17,000 likes within a couple of days.
Meaning
The 'Officer Earl Running' meme has become a humorous and popular way to express wanting to apprehend someone or trying not to get captured. "If I don't reach that tree before that car I'll die" is a sample caption posted on cheezburger.com.
Examples
Popularity
See also