Oof Stones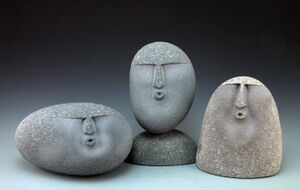 About
"Oof Stones" is a meme based on a viral image featuring stones with carved faces. Their pursed lips suggest the stones are saying "oof," a common internet expression used to convey discomfort or a lack of words due to awkwardness in a situation. 'Oof Stones' is sometimes labeled as 'Stones Saying "Oof" for obvious reasons.
Origin
'Oof Stones' originated from a product image displayed by the Chicago art studio, Silver Stone Handcrafted. Internet users caught on to the product to choose two out of 14 designs available to turn into a viral sensation. Comedy site 9GAG was supposedly the first to share the image as a meme.
'Oof Stones' spread to Twitter, Tumblr, and Reddit with different variations on the picture. The photoshopped images tend to range from common pain to reactions to insults.
Meaning
The expression "oof" can mean a variety of things, such as watching a friend get hurt or not having the right words to say in an awkward situation. The 'Oof Stones' showcase that humor is the best form of medicine.
Examples
Popularity
See also