Peace Was Never an Option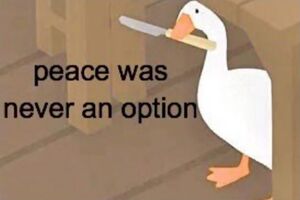 About
Video gaming is a strong aspect of internet culture, and this explains why there are so many memes inspired by game scenes, characters, and situations.
Think about major franchises such as Grand Theft Auto; each title generates countless animated GIFs, image macros, exploitable panels, you name it; but what about independent titles such as Untitled Goose Game?
They tend to fly under the radar, but they can also be worth of memetics, and this explains "Peace Was Never an Option".
Origin
Untitled Goose Game was released for the Nintendo Switch, macOS, and Windows in late September 2019. It was an instant hit among players who appreciate clever gaming ideas.
In essence, you play a very smart goose that makes life impossible for humans through hilarious pranks, and it only took a few days before a meme based on the game plus a memorable line from the 2011 film "X-Men: First Class."
After thousands of tweets and retweets, Peace Was Never an Option made its debut on Reddit, where it quickly garnered thousands of positive votes during the first week of October.
Meaning
Participants of online multiplayer games often use this meme to explain why they attack their teammates.
Whenever someone tells you that they were not expecting combative behavior, you can always explain that Peace Was Never an Option.
Examples
Popularity
See also