Say Sike Right Now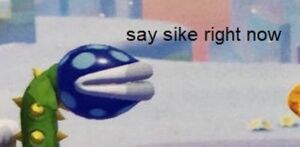 About
"Say Sike Right Now" is a witty meme that derives from a famed video game.
More specifically, Nintendo's "Super Mario Maker 2." The game was released in 2019, making the meme fairly new. The meme involves a blue piranha creeper plant accompanied by the expression "say sike right now."
Origin
"Super Mario Maker 2" made its big debut in June 2019. In true 21st century fashion, it didn't take long for the public to meme-ify it. Twitter user, nira3333, was the first to introduce the meme to social media. The exact tweet consisted of a picture of the blue piranha creeper plant and other theatrics.
In three months, the tweet amassed 490 likes. On July 10, another Twitter user got a little craftier. Twitter-goer, DarkDawg219, created a hybrid of the Say Sike Right Now and Time Traveler Conversation meme. The post garnered significantly more traction than the original poster's tweet. DarkDawg 219 then shared the meme to Reddit. Since transitioning to this platform, the meme has taken off.
Meaning
The Say Sike Right Now meme is often used in response to information that is unbelievable.
For instance, when your mom says you're going to another store after shopping all day or hearing that Japan bombed Pearl Harbor for seemingly no reason.
Examples
Popularity
See also