Shit Negro, That's All You Had To Say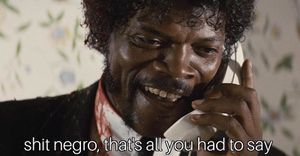 About
"Shit Negro, That's All You Had To Say" a screen shot of actor Samuel L. Jackson talking on the phone. It's a reaction meme, often used as the punchline to another situation. It began to circulate near the start of January, 2019.
Origin
This is yet another meme started by the 1994 cult classic Quentin Tarantino film Pulp Fiction. In this scene, Jackson is Jules Winnfield, a mobster in a tight spot. Jules and his partner Vincent Vega (John Travolta), have just pulled into the home of Jimmie (played by Tarantino himself) with a dead body in the car which they have to dispose of pronto.
Under pressure from Jimmie to get out of there as fast as possible, Jules calls his mob boss Marsellus Wallace (Ving Rhames) to appraise him of the situation and plea for backup. Wallace reassures him he'll be sending "the posse" in the form of "The Wolf" (Harvey Keitel) to help. Jules, obviously as relieved as he's ever been in his life, utters the line.
Meaning
Pulp Fiction is one movie which has been memed across the web and back for two and a half decades now, so it comes as no surprise that even an incidental line like this gets circulated.
Use it to convey a "deal-closer," when the person you're dealing with has just agreed to a condition or bit of business which satisfies you such that no further negotiations are required. It's a positive meme, meaning relief, epiphany, satisfaction, or when greeting good news.
Examples
Popularity