Sitting and Standing Old Man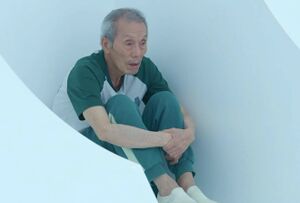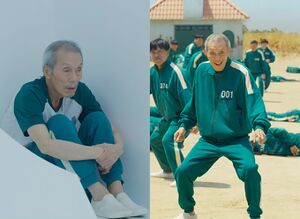 About
Squid Game is a South Korean drama that premiered on Netflix on September 17th, 2021. The show has since become Netflix's most-watched series in history.
In episode one of Squid Game, Oh Il-Nam is introduced as player 001, an old man with nothing to lose due to an inoperable brain tumor. His nonchalant attitude toward his life-or-death situation becomes apparent as he is seen running gleefully through a game of "Red Light Green Light" as players around him drop dead. Later in the series, Oh Il-Nam is shown sitting in a corner alone, looking despondent as other characters have rejected him for being too old.
Origin
On September 27th, 2021, Twitter User @GQBKR posted a tweet with the photo of a sad Il-Nam captioned "Me in the club after being forced to go out". The meme went viral, garnering almost 75,000 likes within ten days. On October 7th, 2021 Reddit user Shami1111 made a post using both pictures for the first time, which received 6,600 upvotes. Since then, several variations of the meme have spread on multiple social media platforms.
Meaning
The Il-Nam standing and sitting meme is typically used to compare happiness with sadness. Often this is in the form of "before and after", meaning the person was happy until they did something, and are now sad after doing it.
Examples
Popularity
See also