So Anyway, That's How I Imagine Our Target Audience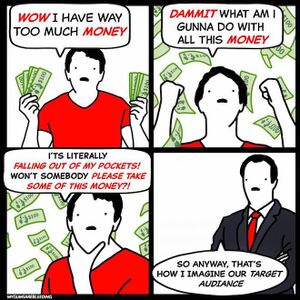 About
"So Anyway, That's How I Imagine Our Target Audience" or "Target Audience" for short is a meme template which appears in the form of a 4 panel comic. Users insert various brand and corporate logos into the final panel. It is based on a webcomic by the artist Miles Erickson aka Mygumsarebleeding.
Origin
On June 18, 2022, Miles Erickson (u/Miles_the_new_kid) created a thread on r/gaming with his webcomic depicting the apparent cluelessness of Diablo Immortal developers. The post was 92% upvoted and comments generally show agreement with the sentiment. On June 20, Erickson posted the same thing to his Instagram page (@mygumsarebleeding) and challenged his followers to think of other examples. Some of these, such as Lego, found their way into other examples of this meme.
The image found almost immediate popularity. In little over a week, the original instagram post received over 760 likes and gained Erickson many more followers. The template spread quickly to other reddit boards such as r/wallstreetbets, where an anonymous user used the format to comment on movements in the stock price of ExxonMobil. Within a couple days of the original post, a blank version of the template was created for r/MemeTemplatesOfficial by u/mrduncansir42.
Meaning
In this meme, a developer or corporate figure is indulging himself with a fantasy of a consumer base with infinite disposable income and infinite desire to purchase the products that he represents. The rapid spread of this meme is perhaps a sign of the times we are in. It appears that as a whole corporations are out of touch with the needs and wants of their customers. This is true not only for the gaming space but also for nearly every other sector of the economy.
Many consumers feel as though they are expected to have an endless supply of money to keep up with increasing costs and emerging trends. The template can also be used to express general dissatisfaction with a product, service, or business policy. Many users feel as though costs are increasing while quality is not.
Examples
Popularity
See also