Surprised Shaq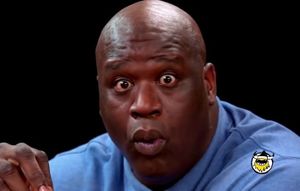 About
Famed NBA player, Shaquille O'Neal, is both a lofty athlete and relatable guy. While his athletic accomplishments are widely celebrated, the "Surprised Shaq" meme is what this decorated basketball player is most known for these days.
As expected, the Surprised Shaq meme includes pictures of Shaq bearing a shocked expression. While interviewing with YouTuber Sean Evans, the meme came to life.
Origin
Sean Evans, the mastermind behind the "First We Feast" YouTube series, featured Shaq in a "Hot Ones" episode. The interview consists of spicy questions followed by even spicier hot wings. The interviewee begins with mild wings, steadily graduating to blisteringly hot sauces.
The episode aired on March 14, 2019, amassing upwards of 10 million views in just 12 days. Shaq's comical facial expressions are what captivated audiences. As the interview progresses, it becomes abundantly clear how intolerant Shaq is to spicy foods. The spicier the wing, the funnier the face.
Meaning
Doing what the internet does best, the clip evolved into an overnight sensation. Editing connoisseurs used their expert skills to place Shaq in situations in which a surprised face is warranted.
The picture is mostly used to depict shock, awe, and allure. For instance, an impressive talent show contestant or precocious child.
Examples
Popularity
See also