The Flash Looking at Superman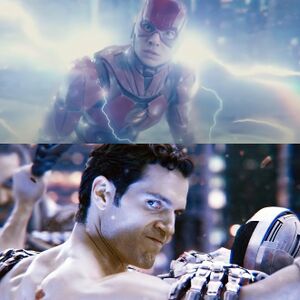 About
The DC Comics universe is a rich breeding ground for memes of all kinds, particularly in relation to the Justice League film released in 2017.
It should be noted that this film was released again as a different version edited by acclaimed director Zack Snyder in 2021, and it was an epic four-hour affair that left many movie fans feeling a bit awkward because it required them to arrange multiple streaming sessions in order to finish it.
"The Flash Looking at Superman" is a two-panel image macro created in 2017, but it was revived in 2021 thanks to the Snyder cut.
Origin
Superman has died a few times during the history of DC Comics. The plot of the Justice League film is driven by the forced revival of Superman, which is something the Man of Steel is not happy with. For some reason, the rest of the Justice League superheroes decide that fighting Superman will somehow calmed him down, and The Flash tries to run a speedy sneak attack from behind, but he is caught.
The original meme fizzled over the 2017 holidays, and it was sporadically used until the Snyder cut began streaming. In early April 2021, an object labeling version of the image appeared on Reddit; the theme was related to signing up for a premium PornHub membership using a parental credit card. Over the next few days, more than a dozen hilarious versions began circulating.
Meaning
Sometimes you believe so much in your own abilities that you ignore the superior abilities of others. When you are surprised by your own lack of foresight in this regard, this meme will come in handy to explain the situation.
Examples
Popularity
See also