The Medic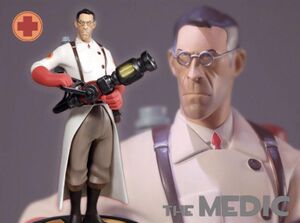 About
"The Medic" is a popular meme inspired by the hit video game, Team Fortress 2. The Medic is a character class whose duties include healing players with a Medigun to prevent them against vulnerable attacks for a brief period of time.
Origin
'The Medic' meme originated after a lighthearted Reddit dispute stemming from a YouTube series from user The Winglet. These videos explain the difference between Team Fortress 2 and another popular video game, Overwatch.
Redditors took to their own site and Instagram to share memes of the character with a wide range of topics and humorous scenarios.
Meaning
The most common use of 'The Medic' memes is to poke fun at the anti-vaccination movement where mothers (called Karens) refuse to vaccinate their children and remedy their ailments with natural medication. Others use this meme platform to talk about their own childhood.
The Medic character class provides an easy punchline to fans and critics of Team Fortress 2. The general meaning is anyone can be a medic; however, it's more efficient to your well-being to seek actual professional help.
Examples
Popularity
See also