The Power of the Sun, in the Palm of My Hand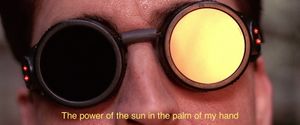 About
"The Power of the Sun, in the Palm of My Hand" is a family of memes based on a movie quote.
Origin
This meme originated in the 2004 movie Spider-Man 2. It is taken from a scene where Dr. Otto Octavius, later known as Dr. Octopus (Alfred Molina) uses robotic tentacles to manipulate the core of a fusion reactor.
As the camera cuts to a tight close-up of his face, one lens of his goggles glowing with reflected light, he declares that he has "the power of a sun in the palm of his hand" -- even though, technically, the tentacles he's using don't have hands or palms.
Meaning
Some memes that in this family use Dr. Octopus's bombastic quote to describe mundane situations where someone might have a brief feeling of power. In this type, the description of the situation and the movie quote are superimposed over the close-up of Dr. Octopus's face.
Another form of the meme attaches the quote to scenes where people appear to be holding hot and/or sun-like objects in their hands, ranging from actual glowing balls to radiators to bottles of the drink Sunny D.
Examples
Popularity