They Feed Us Poison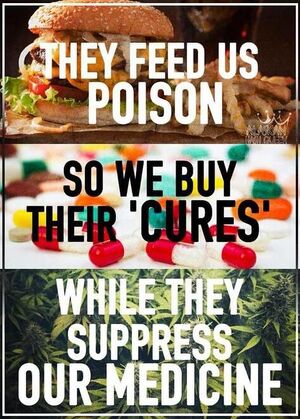 About
"They Feed Us Poison" is a three-panel meme. It consists of a single line of text over each panel:
They feed us poison (originally fast food)
so we buy their "cures" (originally pills)
while they suppress our medicine (originally cannabis flowers)
The substances in each panel are arranged differently according to the intent of the creator.
Origin
The image that started it all was posted for californiaweedblog.com and their Facebook page @CaliforniaWeedBlog. The watermark appears at the bottom. It has since been deleted so the exact date of its posting is not known but it is presumed to be from the summer of 2018 when it first circulated the internet.
It was not initially well received and it eventually became the subject of Reddit mockery. Some notable early examples of parodies include that of Redditor shenjoey7429 who decided to add some Gang Weed trademarks to the original (2/26/19). Another is from an Instagram post with this French dog.
On 3/15/2019, the meme was included on a ranked list of current memes on Digg.
Meaning
In its original form, it's an example of tinfoil hat posting. It is pretty straightforward: the citizens are fed bad food to be kept on bad medication while the useful medication remains illegal in most places.
The meme is a parody of an OC and can be used in just about any context. Some have used the meme as an attempt to make their own points about what is healthy and what is not. However, most use of this meme is ironic.
It has even been appropriated by various fandoms, creating niche memes that are not accessible to general viewers. It is usually used to take a message about something that is good for you, and instead advertise something that is bad for you. For example, Gang Alcohol memers have used this meme as propaganda against big water and its lies about which is healthier.
Examples
Popularity
See also