Tulio And Miguel Lying To Chief Tannabok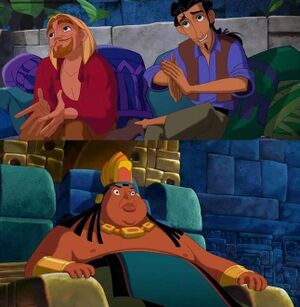 About
The meme known as "Tulio And Miguel Lying To Chief Tannabok" is a simple two-panel image macro sourced from "The Road to El Dorado," an animated film from the year 2000.
This particular meme is derived from an exchange between Miguel and Tulio, the protagonists, and Chief Tannabok, the leader of El Dorado's people. Although the image debuted on Facebook in July of 2020, it rose to new levels of popularity as an object-labeling meme on Reddit a month later.
Origin
July 21, 2020 saw Jonathan Herglotz upload the initial template to "The Road To El Dorado Goldposting," a Facebook group. "Linda Chambrlain," another Facebook user, was the first user to upload a proper version of the macro based on Herglotz's template. Linda's post on the same usergroup as Herglotz garnered over 1,500 reacts in the span of two weeks.
Meaning
This sort of image is used to draw a contrast between confessing something to a person yet the person is just surprised to hear the news. Example ideas for this particular image macro include the following.
Going into great detail about the plot failures of a film franchise but the second panel reveals that the person is just a service worker.
Two people sharing their thoughts about how they hang out contrasted by the look on their therapist's face.
Examples
Popularity
See also