Tuxedo Winnie the Pooh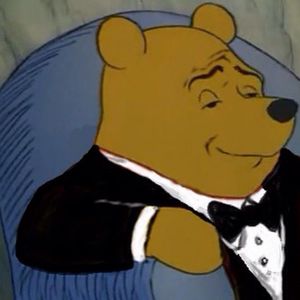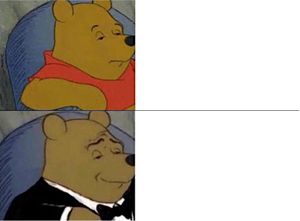 About
"Tuxedo Winnie the Pooh" also known as " A Fellow Man of Culture", this meme has circulated around the internet for the better part of at least six years. It started as a reaction image on 4chan, and eventually gained mainstream notoriety in 2019 on Reddit. It features an altered image of Winnie the Poo reclining in an armchair in his finest evening wear.
The original image pictured Poo sporting an apathetic look. After the tuxedo, his apathetic stare was also intensified, leading to the base image used for the meme.
Origin
The original image first appeared in a Disney featurette in 1974, titled Winnie the Poo and Tigger Too. During a meeting at Rabbit's house Poo can be seen repeatedly dozing off, making it very apparent that he either doesn't get the point of the meeting or that he is genuinely disinterested in the topics being discussed.
The animation was re-released in 1977 as part of a full length film that garnered more attention for the cartoon and undoubtedly, the scene.
Meaning
Depending on the context of the meme as well as whether or not the version that includes "A Fellow Man of Culture" is used, there can be several meanings attributed to the picture. Without the addition, the most common meaning is one of self satisfaction and approval.
When "A Fellow Man of Culture" is used, the predominant understanding is that the original poster approves of another's behavior to the extent that it would mirror their own. Most acts that receive this are also not cultured, adding a somewhat satirical viewpoint to the situation.
Examples
Popularity
See also