Undertaker Standing Behind AJ Styles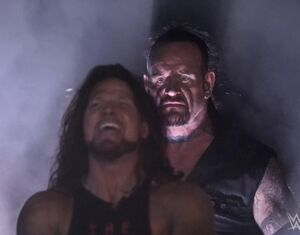 About
The picture macro series titled "Undertaker Standing Behind AJ Styles" features a photo from the professional wrestling event known as "Wrestlemania 36." In the meme, the wrestler AJ Styles can be seen smiling, however he is unaware that his opponent, the Undertaker, is standing behind him.
Origin
A Boneyard bout between wrestlers AJ Styles and the Undertaker was featured on the broadcast of "Wrestlemania 36" that took place on April 4, 2020 and was produced by the WWE. Throughout the bout, Styles was under the impression that he had successfully put the Undertaker to rest by burying him. The Undertaker suddenly materialized behind him as he smirked triumphantly over his seeming victory.
Meaning
This meme is used to show a comedic situation in which someone is smiling but is unaware that another person is standing behind him who will cause him to lose his smile.
Examples
Popularity
See also