Vanya and Five Drive By Each Other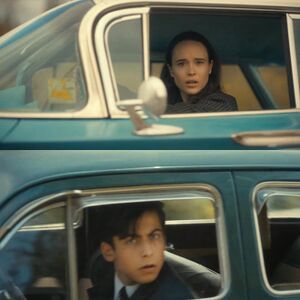 About
The meme known as "Vanya and Five Drive By Each Other" is taken from a series of images derived from a specific scene of Netflix's "The Umbrella Academy." This scene has the characters of Vanya Hargreeves and "Number Five" noticing each other from opposing car windows with genuine surprise. Since early August 2020, the scene has gone viral as a source material for both reactions and labeled objects.
Origin
July 31, 2020 saw the second season of The Umbrella Academy launch on Netflix. In one scene of episode seven, titled "Oga for Oga," Vanya and Five pass by each other in separate vehicles. One week later, On August 6th, Facebook user Erika Quimson posts a two-panel meme to "Umbrella Academy Moonposting." This initial post garnered more than 1,400 reactions and 160 shares in just five days.
Meaning
The basic premise behind this two-panel fabrication uses the first shot to indicate that a person is doing something sneaky only for the reality of discovery to come crashing down in the second shot.
Examples of Use:
Using a specific e-mail address for something naughty only to discover that the e-mail is already in use.
Regularly using an alias to order from websites only for the ordered goods to be delivered by a person whose real name happens to be your alias.
Examples
Popularity
See also