Wait, That's Illegal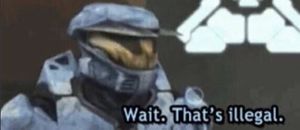 About
"Wait, That's Illegal" is a meme that made its first appearance in 2015. This meme refers to a famous reaction image taken from the famous Halo-themed Red Vs. Blue. Reaction images include both gifs and images that represent a specific emotion in reaction to something said.
Origin
A character in the episode "Real Life vs. Internet" published to the web on March 12th of 2015. The image has reached social media applications like Facebook, Instagram, and Twitter. It's also been a mainstay on Reddit, especially on the meme and halo subreddits. Not to forget its presence on 4chan. This reaction image is used in reference mainly in gaming circles.
Meaning
Wait, That's Illegal is used in reaction to indicate shock in a humorous manner whenever you're unable to complete an action.
Examples
Popularity