What the Fuck Did You Just Bring Upon This Cursed Land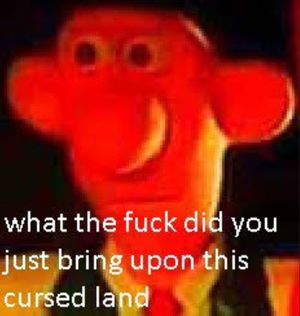 About
A blurred image of Wallace was extracted from the UK clay animated series Wallace and Gromit to create the captioned "What the Fuck Did You Just Bring Upon This Cursed Land" meme. This image macro has created a controversial stir. Some claim the image with Wallace's eyes popping out of his head is sadistic.
Origin
The still image was selected from the episode titled "A Grand Day Out", which initially aired in the UK on November 4th, 1989. Wallace abandons the spaceship right before it takes off to grab a snack of crackers, leaving Gromit with a puzzled look.
The first sightings of this meme were found on Twitter during the latter part of 2018. Its creator is unknown. The image macro has made its rounds through various media and social channels during the past year. Reddit posted a unique multi-panel about Airport Security Vs. Water. It got over 75,000 positive votes in a little over a week.
Meaning
The "What the Fuck Did You Just Bring Upon This Cursed Land" image macro is being used as a response to alarming or creepy content. It is a way to express or mock concern in a witty manner. It has become a popular retweet on Twitter.
Examples
Popularity
See also