Will Smith's Genie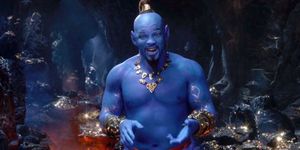 About
"Will Smith's Genie" is a versatile meme that hit the scene just days ago, on Sunday, February 10. Although many memes have dedicated formats, Will Smith's Genie does not have any popularized, go-to formats.
Origin
Aladdin is an in-progress, live-action movie slated to be released on May 24, 2019. A remake of the 1992 movie of the same name, this year's Aladdin will be shot in live-action. As you probably already know, the 1992 Walt Disney Pictures release was completely animated.
Genie, a big, blue genie called upon by Aladdin, has been featured throughout the Aladdin franchise. The character has never had meme potential until now:
Will Smith was the host of the 2018 edition of YouTube's YouTube Rewind. Now known as one of the most disliked videos in YouTube history, Will Smith was criticized for recreating a birthday-themed video taken at the Grand Canyon earlier that year. Smith was remarkably unfunny and is considered by many to not have positively contributed to the content. In typical meme fashion, memelords across the Internet have clowned Smith in meme-format over the past two months.
Some characters, such as big, blue genies, aren't easily portrayed in live-action films. Another reason why Smith's character has been meme-ified is that the character was not played wall in movie trailers.
Meaning
Internet users have simply used Will Smith's Genie to poke fun at the character's appearance. Some have likened it to the otherworldly characters of the Avatar franchise for the Aladdin character's similarly blue skin.
Examples
Popularity
See also