Why Do I Fix Everything I Touch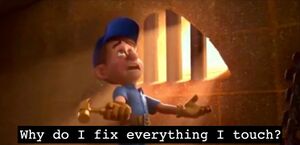 About
Similar to "Toy Story," the "Wreck-It Ralph" film franchise has proven to be a major hit for Disney, and it has also spawned quite a few memes thanks to its endearingly funny scenes.
One of the keys to the success of "Wreck-It Ralph" is that the jokes happen to very clever, and this characteristic tends to attract individuals who are into online memetics. In the case of "Why Do I Fix Everything I Touch", the scene it is based on is worthy of deep sarcasm.
Origin
The first "Wreck-It Ralph" film was released in 2012; a particular scene in the movie features Fix-It Felix Jr., a playable character in a video game in which the main character is tired of playing the part of a villain. The scene in question sees Felix trying to escape a prison cell, but he actually manages to make the metal bars thicker because he thought they needed to be fixed, and that is what Felix always does in a wholesome way.
The first instance of this scene as a meme dates back to 2013 as an animated GIF posted on a Disney-themed blog. In mid-June 2020, the single-panel image reaction was posted on a Reddit board with a highly ironic caption about a school nurse situation. A day later, the image was posted elsewhere on Reddit with a caption about China's clumsy attempts at trying to whitewash the terrible human rights record of the Communist Party.
Meaning
This meme is extremely sarcastic. Fix-It Felix cannot help being clueless because he is a silly 8-bit video game character, but this does not excuse others from trying to apply a flex to a situation that they are actually making worse.
Examples
Popularity
See also