You Are Not a Clown. You Are The Entire Circus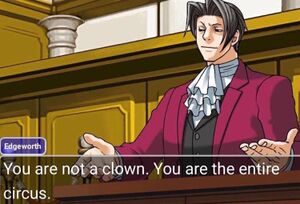 About
"You Are Not a Clown. You Are The Entire Circus" is a sassy image macro used for puns, irony and tongue-in-cheek commentary.
It features Miles Edgeworth from the remastered version of the Phoenix Wright: Ace Attorney Trilogy, and it shows the catchphrase subtitling a screenshot of the game's courtroom.
Origin
Interestingly, Miles Edgeworth never said, "You are not a clown. You are the entire circus." The quote was first tweeted by Twitter-user @javeigh on June 25, 2019, quickly accruing over 63,000 likes. Later that same day, Twitter-user @velvetxero retweeted the quote photoshopped like a subtitle to a screenshot from Ace Attorney.
On July 1, 2019, the image found its way to Reddit. Redditor u/Blademastermelee posted this meme to r/dankmemes where it received over 3,500 upvotes. Since then, numerous variations of the meme have popped up all over the internet.
Meaning
Memers use the catchphrase literally and figuratively. Sometimes, the image macro is used in response to a pun or dad-joke. Other times, the meme is used ironically, poking fun at anyone with a cheesy sense of humor.
The term "clown" popularly refers to a fool or cheater on social media, and some uses of the meme reflect this. For example, this version of the meme pokes fun at YouTubers foolishly trying to hide their subscriber counts following a scandal.
Examples
Popularity
See also