You Son of a Bitch, I'm In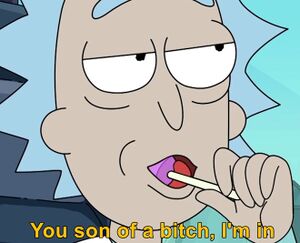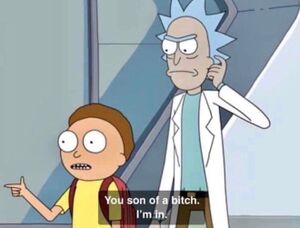 About
The "You Son of a Bitch, I'm In" meme comes from an episode of "Rick and Morty." More specifically, the line is uttered in an episode entitled "One Crew Over The Crewcoo's Morty."
Throughout the episode, several characters use this one-liner in response to something they're thrilled to partake in. On more than one occasion, this involves carrying out a heist. Said characters include Morty, Miles Knightly's crew, and Truckula. The most popular rendition of the meme depicts Rick Sanchez, the show's main character, sucking on a lollipop.
Origin
"One Crew Over The Crewcoo's Morty" aired on Nov. 24, 2019.
The scene gained instant popularity, with Reddit and Facebook users posting the image to social media only one day later. Munozagd, a Redditor, received 40 upvotes when they uploaded the image, but others have had more luck amassing likes and comments.
Savagelard is one such social media user. In three short days, their edit garnered over 31,000 upvotes. The format is still widely used on both Reddit and Facebook, but other platforms haven't expressed interest in adopting the meme.
Meaning
The image is used to demonstrate keen involvement in something. For example, when a girl asks another girl to run to the bathroom with her.
Examples
Popularity
See also