Afraid To Ask Andy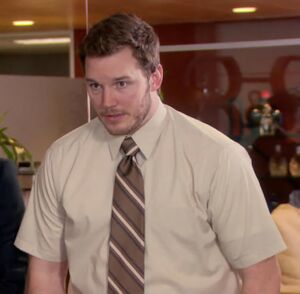 About
"Afraid To Ask Andy" is a meme showing a picture of Andy Dwyer (Chris Pratt), one of the main characters in the sitcom Parks and Recreation. The caption is based on a memorable statement made by Andy Dwyer in Season 6 Episode 16, "A New Slogan," which aired in 2014.
Andy expresses during a confessional that "I don't know who Al Gore is and at this point, I'm too afraid to ask."
Ironically, the picture used in the meme that has gone viral is not a still image of the moment Andy uses the phrase "at this point I'm too afraid to ask," but of a different scene in the show.
Origin
The origination of the meme itself appears to have come from Reddit user "john_solo76", who said, "I don't know what Gamergate is and at this point, I'm too afraid to ask." This format quickly spread and was used by other Redditors, and would later be used on other social media platforms.
Meaning
The image is captioned with various confessions of one's ignorance of current events or common knowledge followed by the phrase"... and at this point, I'm afraid to ask." It is something that the poster feels like they should know but feels too embarrassed at this point to ask about.
Examples
Popularity
See also