After All, Why Not? Why Shouldn't I Keep It?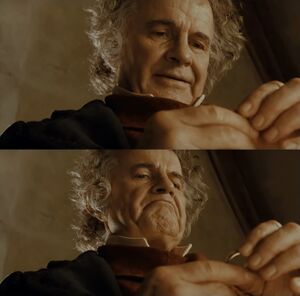 About
There are many factors that explain the sheer success of The Lord of the Rings film trilogy, but one that should not be ignored is the caliber of the theatrical performances in all chapters.
When you have actors such as Ian Holm and Sir Ian McKellen, who are both veterans of the theater stage, you know you are in for some very expressive scenes, and this is why we have the meme known as "After All, Why Not? Why Shouldn't I Keep It?"
This image macro is from a memorable scene in the 2013 "The Fellowship of the Ring" movie, and it has spread exponentially over the years.
Origin
A YouTube clip of the scene dating back to the 2013 holiday season was the first instance of this meme.
Over the next couple of years, three-panel image macros were posted to image sharing websites such as Imgur and to social networks like Tumblr. Invariably, the goal was to highlight Bilbo Baggins' facial gesture when he decided to keep the magic ring he was supposed to turn over to Gandalf the Grey.
By 2018, the image macro had been posted on Reddit a few times, but it got more traction when it appeared on Twitter in 2019 because it dealt with wholesome coming-of-age moments.
Meaning
Everything from Bic lighters to ink pens and from rent deposits to lost smartphones can be incorporated to this meme, which is pretty good at highlighting objects and situations that everyone borrows without the intention of returning.
Examples
Popularity
See also