And I Took That Personally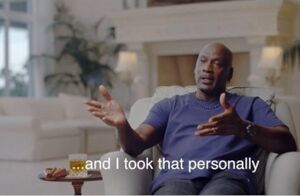 About
Michael Jordan is one of the greatest trash talkers of all time, but he also took signs of disrespect very personal. This meme perfectly sums up our ability to turn small, trivial situations into large ones.
Origin
The "And I Took That Personally" meme was birthed in a Netflix series called "The Last Dance." The series aired on July 20, 2020, and it followed the Chicago Bulls as they tore through their opponents in the 90s.
While the series focused on the entirety of the Chicago Bulls NBA organization – Michael Jordan, Dennis Rodman, Phil Jackson, Scottie Pippen, Steve Kerr – Jordan regularly stole the show. When Michael would recall his interactions with other players, specifically those with the Detroit Pistons, he uttered, "I took that personally," multiple times.
Meaning
Have you experienced a moment in your past where someone disrespected or spoke ill of you? While most of us would ignore this comment, Jordan is of a different ilk. He would take every small, negative interaction with an opponent or teammate personally.
Unfortunately for the opponent, Jordan had an uncanny ability to turn that anger and hatred into fuel that would stoke his athleticism and passion for success. This behavior, although comical and meme-worthy, was the catalyst for the winning nature the Chicago Bulls showcased in the 90s.
Examples
Popularity
See also