Bane vs Pink Guy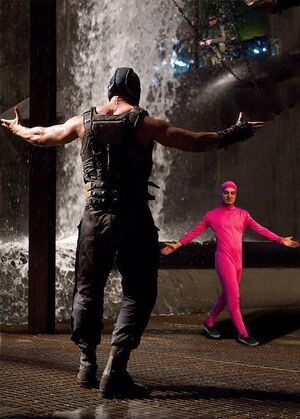 About
The "Bane vs Pink Guy" meme is a popular image circulating the web to be used as a reaction picture for a variety of social media websites. This image was inspired by the 2012 hit film The Dark Knight Rises with the villain character Bane depicted by action star Tom Hardy.
The meme is based on a fight scene from the film with Bane preparing to fight Batman in a sewer; however, Internet users humorously Photoshopped Pink Guy, a character created by Joji AKA Filthy Frank, a Japanese comedian, into the spot of Batman.
Origin
'Bane Vs Pink Guy' is debated to have began on either Twitter or 9GAG and later moved onto the r/FilthyFrank sub-reddit in 2016 to an international audience. Fans of the Batman franchise as well as followers of Filthy Frank began creating their own memes which eventually found their way onto Instagram in 2019.
Meaning
Sometimes using dark humor at childhood trauma and other instances with feelgood comedy, 'Bane Vs Pink Guy' is a contrasting image of a menacing villain versus a dimwitted hero. This laughable image uses humor to deflect an otherwise troubling situation, be it made up or extremely personal.
Examples
Popularity
See also