Barbie vs Oppenheimer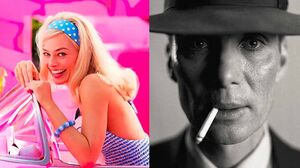 About
"Barbie vs Oppenheimer" is the memetic pairing of the 2023 films Barbie (directed by Greta Gerwig, starring Margot Robbie and Ryan Gosling) and Oppenheimer (directed by Christopher Nolan, starring Cillian Murphy) that was released on July 21, 2023, and contrast visually and thematically.
The first memes comparing their vibes and color palettes (pink vs. black) were posted on Twitter in April 2022 after it was widely reported that their release dates were the same. The trend continued into 2023 on Instagram, TikTok, and Reddit. Barbenheimer emerged from the comparison.
Origin
On April 26, 2022, the Twitter account @filmupdates tweeted, "Greta Gerwig's BARBIE and Christopher Nolan's OPPENHEIMER both were released on July 21, 2023," with two early images from the movies. In a year, the tweet got about 32,200 likes. The tweet was the first of its kind, and it was quickly copied by the film-focused Twitter account @DiscussingFilm, which got about 22,200 likes in the same time period.
A lot of memes came from the information and look of the two images next to each other. For example, on April 26, @Srirachachau quickly tweeted "Clash of the Titans," which got about 6,400 likes in one year.
Meaning
The meme cleverly juxtaposes the seemingly innocent and glamorous world of Barbie with the serious and intense world of Oppenheimer. By using labeled screenshots, it effectively highlights the stark contrast between these two subjects, leaving viewers both amused and surprised. 
Examples
Popularity
See also